Poway backyard renovation
Problem: Pool and hardscape needed an upgrade
Solution: Update pool and surrounding areas
Resolution: Updating pool with new pebble tec + coping, addition of artificial turf and concrete steps for more modern look, and new tiles

We provide plant services along with landscaping design and build.
The landscape requires very low maintenance, reducing the cost of ownership substantially.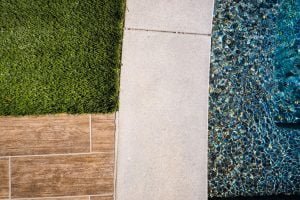 Before:
Our client was looking for some help with his backyard as it needed a complete renovation.
After: We were able to help him create a more usable space for his family to enjoy. With a newly re-plastered and tiled pool, stunning top cast concrete steps, beautiful ceramic tiled floors, and we also installed a realistic artificial turf to brighten it up! The family are very happy with their new space.