San Diego backyard renovation
Problem: Make backyard slope useable
Solution: Add a second tier and focal point water feature
Resolution: Water feature with rocks, new wood panels, addition of steps for second tier, second tier made out of decomposable granite

We provide plant services along with landscaping design and build.
The landscape requires very low maintenance, reducing the cost of ownership substantially.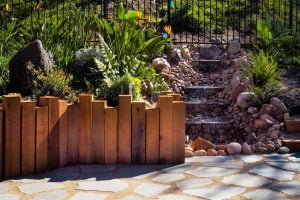 Before:
This couple wanted to renovate their forever home by making their slope more usable! They really wanted to go a more rustic look and feel.
After: We achieved their dream vision by implementing new wood barriers for their planter boxes, a stunning water feature made out of rocks, steps made out of timber that goes to a little patio made out of keystone where they can sit and and enjoy the beautiful view! They were left so overjoyed with their new backyard.