Exterior Landscape Design Services
At Enviromental Designs we design & maintain landscapes that are environmentally conscious of California's Mediterranean climate.
Designed For Southern California's Climate
Our designs consist of drought resistant landscapes including choosing plants that require low watering. We do, of course, design any kind of landscape to fulfill your desires. We create the oasis you've dreamed about with the care and attention our wonderful environment demands.
Drought Resistant Landscaping
Drought Resistant Landscape consists of plants that need very little water, or no water, to maintain. There is a wide variety of plants and trees that fit this description. By replacing your lawn with drought resistant shrubs, you will significantly reduce your water usage and maintenance. Mowing every weekend in the heat is a thing of the past! If you really love green lawns, consider planting a meadow using short grasses and flowers that require less water. When you make the change to a drought tolerant landscape, you will be amazed at the color and texture of your new yard!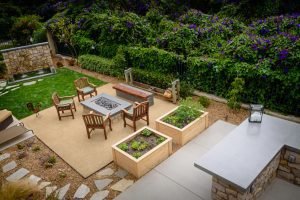 Landscape Design
If you just purchased a new property or want to add a bit of life to your current property, we recommend checking out our landscaping design service. We'll work with you to create a unique look for your home or business. We can start from scratch or remodel an existing flower garden that you no longer like. Our expert gardeners can add the right amount of balance between visual appeal and functionality.
Samples of Recent Interior Projects
In addition to drought-resistant landscaping, Environment Designs is here to help you with a variety of outdoor services including: